I have always put a bow in my daughters hair since she was born, sometimes people joked the bow was bigger than her head (when she was a baby). Those boutique girls hair bows can get really expensive and I've always thought "hey how can I DIY that?" I finally took the time to figure it out and it's so easy! I'm a total ribbon nerd and I can't wait for all the new ribbon I will be buying. Here is a step by step tutorial of how to make cute girls hair bows with ribbon.
Bring on the Crafts — A Craft & DIY Blog Hop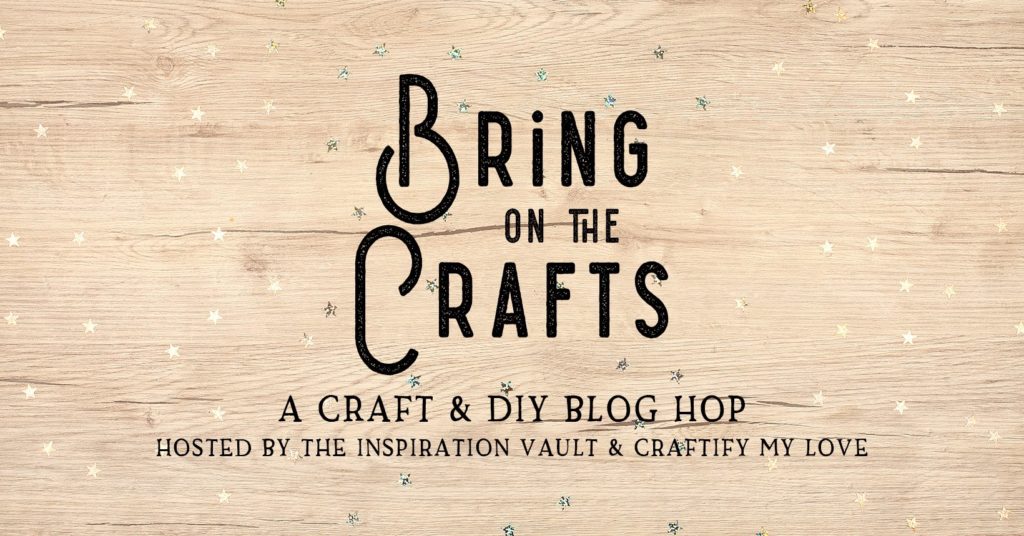 On the first Friday through Sunday of each month, a group of DIY and crafty bloggers join forces. Together Marie from The Inspiration Vault and Habiba from Craftify My Love they bring you the #BringontheCrafts blog hop. Each blogger creates a fun craft or DIY project to share that follows a monthly materials theme. July's theme is Buttons & Beads! Each blogger chooses their own craft to make as long as they love it and it uses Buttons & Beads in the project.
Our July Co-hosts
Jenny at Cookies, Coffee and Crafts • Marie at DIY Adulation •
Beverly at Across the Blvd • Gail at Purple Hues & Me • Kim at Day To Day Adventures
Join in on the fun! If you'd like to participate next month, you can request to join our Bring on the Crafts Facebook Group. Next month's theme is Cutting Machines!
Not a blogger, but a creative mind none the less!? Don't worry, share your awesome creations in our Craft Cult Facebook Group. This is also a great place to ask craft & DIY related questions and find inspiration for your next project.
Now let's see all of those amazing craft and DIY projects!
This post contains affiliate links which means I may make a small comission of any sale that is made by clicking on any of the products with no cost to you. Your support is greatly appreciated.
Supplies for DIY Kids Hair bow
6 different ribbons
Scissors
Ruler
Hot Glue Gun
Alligator Clip
Bowdabra Wire

Mini Bowdabra Hair Bow Making Kit
(optional)
Magical Unicorn Buttons
I created this bow using my new mini bowdabra that I'm so excited about. I can't wait to make more hair bows with it. For this easy stacked bow you can make it easily without the bowdabra. Just follow the same steps below and you will have a boutique style hair bow too.
Depending on the age of your child you are making this for, will determine the length of your ribbon. For a toddler or baby I would do about 5 inches, for my preschooler I did 6.5 inches.
Here is the practice bow I made for Thanksgiving (without the bowdabra) and the ribbon is 5 inches long. After I made the practice bow and put it on my daughter head it looked small so I made the unicorn ribbon longer. Making hair bows with ribbon is a great craft for using up ribbon scraps.
How to Make Cute Girls Hair Bows with Ribbon
For the unicorn bow, I cut all of the ribbon 6.5 inches long and cut the ends of the ribbon into fish tails.
Find the center of your ribbon, and place it into the bowdabra or pinch it in the center. Then stack the rest of the ribbon on top of each other.
Tie the wire around the bow tight, then wrap the wire around and tie again.
Cut a small piece of ribbon to hot glue around the wire to hide it.
Then add your button as the center using the hot glue gun. I did cut off the loop on the back of the button so the button lays flat in the center of the ribbon hair bow.
The last step is to add your alligator clip with the hot glue gun. I found these clips already covered with ribbon at Hobby Lobby, it saves a step and with a coupons it was $2.60 for 12 clips.
Do you know a little girl who would love this cute unicorn hair bow?
The stacked hair bow style is simple and is an easy hair bow to start with as you are learning to create bows. Just think of all the money you will save now that you can DIY your own boutique hair bows.
You are invited to the Inlinkz link party!