Spring is coming and it's when we all start to think about outside, curb appeal, garden decorations and making our outside living space spectacular. My mom is an avid gardener and opens her gardens every year for the local garden walks. She has decided to go with a sunflower theme on her welcome table and I'm helping her out. Garden decorations can be very expensive, but to save some money, you an always shop for them at your local thrift store. I found this decorative gazebo bird feeder and gave it a small makeover.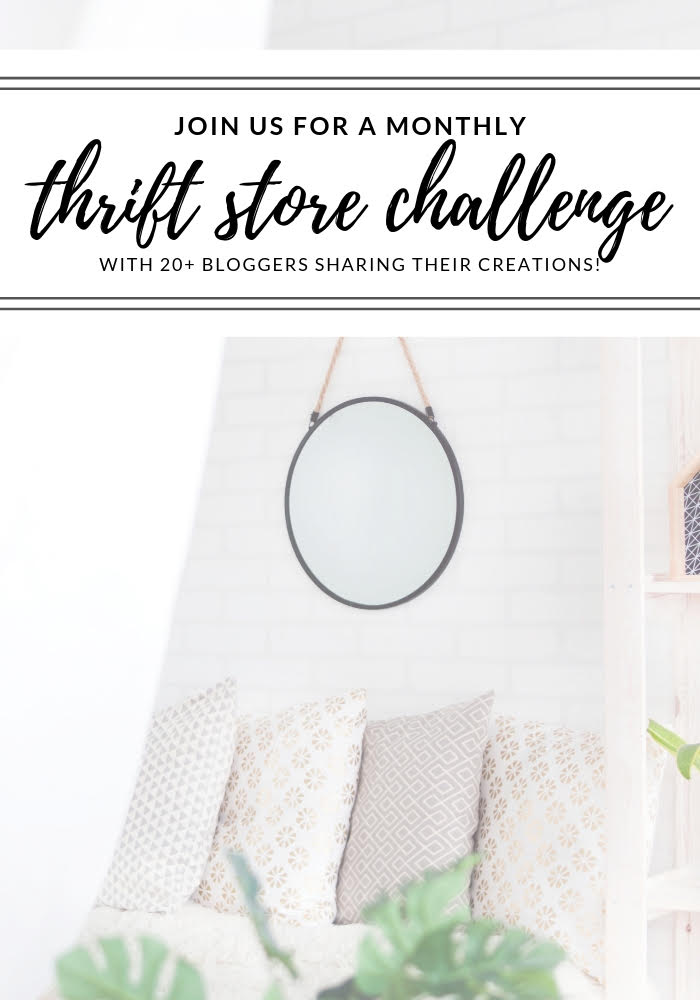 The Rules:
Upcycle an item(s) from a thrift store, resale store, or garage sale into a new piece of decor.
There's no monthly theme.
There's no budget to stick to.
Meet the Hosts
Angela | Simply Beautiful By Angela – Gail | Purple Hues and Me – Jenny | Cookies Coffee and Crafts – Michelle | Our Crafty Mom – Meredith | Thriftwood Home
The gazebo bird feeder was $1.74 because it was the sticker color of the week. That's how I do my thrift store shopping, I try to always buy what's 50%. I can't help it, I just love a good deal. What a great day at a thrift store it was, I found 2 picture frames also for 50% off. With those frames, I made an easy wooden sign and a baby girl picture frame. .
Let's Create a Decorative Gazebo Bird Feeder
Back to the gazebo bird feeder, it was full of bright colors and reminded me of a circus tent which was not going to go at all. I removed the hanger and the wooden ball on top. To start I painted it with primer so I could get a nice clean coat to paint over. After painting the bird feeder, I remembered that craft paint does not go over that primer well at all. So I painted the whole bird feeder with white paint from Sherwin Williams.
Remember the sunflower theme, I'm giving the top of the bird feeder a simple painting job of nutmeg brown. For the gazebo part, I'm painting it with Folkart Sunflower Paint. The sunflower paint is perfect for a sunflower project! I even asked my kids (who are 4 and 6) what flower does this bird feeder look like? They both said "Sunflower!"
My son wrote one Mother's Day, that if he had a million dollars, he would buy a sunflower farm for us. Every time I see or think about sunflowers I think of that, it will forever hold a special place in my heart. For the gazebo part, I did 3 coats and I sanded a little in between each coat.
The nutmeg brown paint craft paint (even over the white paint) doesn't cover 100%, but I like the rustic feel of it, likes it's already been weathered.
After painting your birdhouse, make sure you seal it for the elements.
Painted Sunflower Garden Decoration
The sunflower painting idea is super simple, but gives a nice decorative touch to the gazebo bird feeder. It will make a great addition to my mom's garden decor and I can't wait to add pictures of it in the garden. Right now all you see outside is some snow and dirty mud (yuck!).
You are invited to the Inlinkz link party!