If you want to decorate your home on a budget, thrift store makeovers are the way to go. All you need is a little paint, patience and just a little bit of time. I found this wooden crate at my local Goodwill for $3.49 and it's perfect to become my thrift store desk organizer. My planner, pens, post its and calendars (yes I have more than one) need a home. It's always a good time to get organized.
This page contains affiliate links at no extra cost to you. As a Plaid Ambassador, I was given the Folk Art Home Decor Chalk Paint and paint supplies for this product. All thoughts and opinions are my own. Please see my full disclosure here.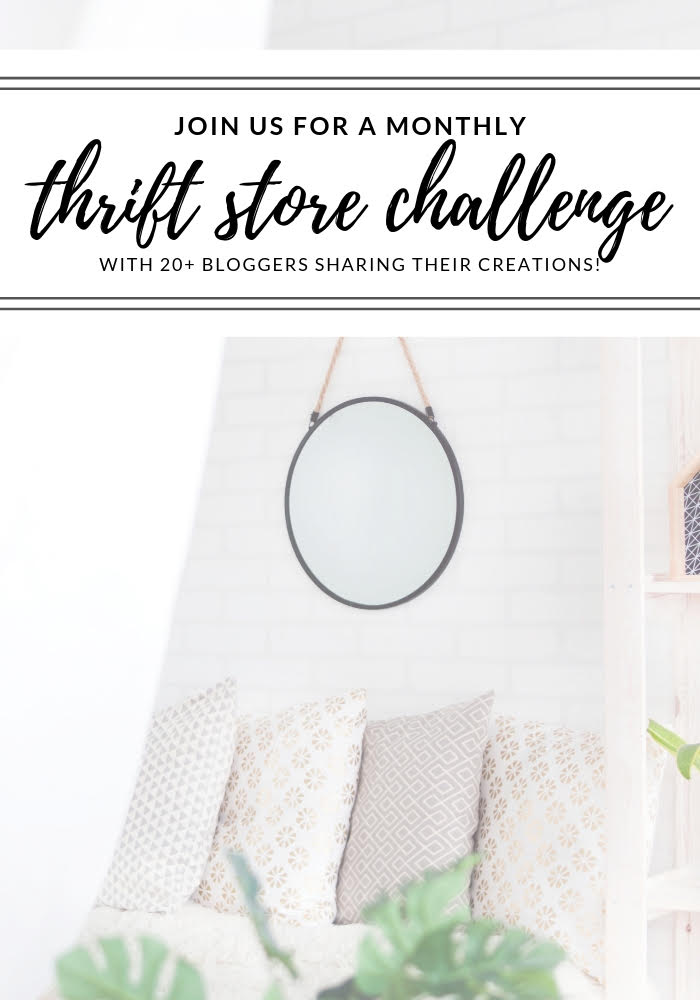 The Rules:
Upcycle an item(s) from a thrift store, resale store, or garage sale into a new piece of decor.
There's no monthly theme.
There's no budget to stick to.
Meet the Hosts
Angela | Simply Beautiful By Angela – Pili | My Sweet Things – Beverly | Across the Blvd – Gail | Purple Hues and Me – Chas | Chas' Crazy Creations – Michelle | Our Craft Mom – Meredith | Thriftwood Home – Kathleen | Our Hopeful Home – Jenny | Cookies Coffee and Crafts
Supplies for Thrift Store Upcycle from Box to Desk Organizer
Thrift Store Wooden Box
1/4 Inch Plywood
Folk Art Home Decor Chalk Paint
Folk Art Clear Wax
Sand Paper
Saw
Wood Glue
White Vinyl
Plaid Nylon Chip Brushes
Palette Pack
Cricut Maker
Let's Create a Thrift Store Desk Organizer
As with all thrift store items, give it a good cleaning.
To get started, I peeled off the design on the one side of the box. Then I had to remove the glue. This was not easy at all! I tried the nail polish remover, rubbing alcohol and nothing worked. So I sanded it down and it didn't look good so I just removed the piece (it was barely holding on). That's the best thing about DIY, make it your own!
For this side, I added a piece of 1/4 inch plywood as a backing and painted one side of it with the White FolkArt Chalk Paint since this will be the back of the box facing the wall. The other side I painted it black to match the other side of the box. Make sure you paint this before adding the wood to the box (it will be so much easier).
This desk organizer is going to hold all of my important blogging calendars, books, and more. I decided to put a 1/4 of an inch plywood piece in the center to separate my stuff.
Just glue the piece in and let it dry. One side is going to hold my calendars, notebooks, planner stickers and the other side will be for my pens, pencils and post its, etc.
The other side of the desk organizer, looks great so I'm going to leave the black alone and add a cute saying to it with white vinyl. I love Rae Dunn so I'll be making a design that is inspired by her work. If you don't have a Cricut Maker, you can find vinyl decals at the craft store and the Dollar Tree to add to the storage box.
Painting and Decorating the Thrift Store Upcycle
One thing this box needed more than anything is a fresh coat of white paint. It's going to be sitting by my Command Center and I want it to match. One of my favorite thrift store upcycles ever is my weekly chalkboard calendar. My house was hit hard with this cold/flu last week (it seems to linger) and the area by our command center is under construction. So right now it's going to hang out on the kitchen counter (but it looks great there too).
For the paint, I'm using Folk Art Home Decor Chalk Paint in White Adirondack. Seriously, I'm loving the feel of this chalk paint and it painted the box so nice. It really gives it that old, rustic feel. Once the paint dries, I will sand it lightly and add Folk Art Home Decor Clear Wax to seal it. The wax made the box feel amazing. I'm so impressed by it.
My New Desk/Planner Organizer
It's the perfect place to have all of my items for Cookies Coffee and Crafts! I even have room for more stuff and I won't have to worry about forgetting my stuff on the table and worrying about the kids spilling stuff on it. Another great DIY thrift store upcycle that was a success.
How cute is this? That's the best thing about thrift store upcycles, is that you can make it your own!
And now for more thrifty goodness!
Check out what my fellow upcyclers created below!